Dean Schwarz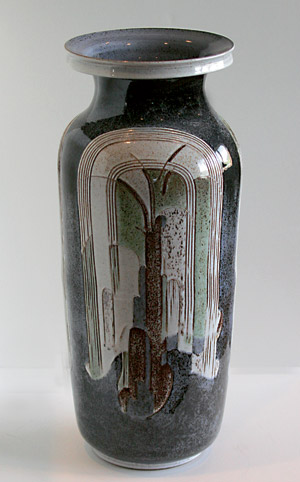 Dean Schwarz is an American ceramic artist, painter, writer, and teacher from Decorah, Iowa.
Working in his Decorah studio, Dean is best known for the innovative ceramic pieces he creates with his sons Gunnar and Lane. Here the Schwarzes make traditional forms harvested from the seeds of a "family tree" whose skills reach back to 1688.

The ceramics are infused with the studies and experiences of a lifetime, and during the last half century, Schwarz pots have found homes in over 30 museums, university, and prominent collections in six countries - including the White House Collection in Washington, D.C. (see Dean's vita).

According to Dean, his "pots are Korean dance with African drum, Bauhaus and flute-of-Peru. They are wheel thrown of Paul (Klee) clay and Wassily Kandinski cadenzas honoring the memory of ancient pots and the anticipation of modern crazies: Most are signature, all are one-of-a-kind. Craft? Surely! Spriit? Art? Hopefully!"

Formerly a teacher at Luther College and South Bear School (a private school he co-founded), more than 160 of Dean's students have gone on to become full-time potters. Dean continues to teach by giving talks (see Iowa Art Pottery Association video part1 and part2) and by documenting the history of a master Bauhaus potter with whom he studied, Marguerite Wildenhain (see South Bear Press).
Willow Pot